2010 Medal of Merit Awarded to Northland Chorus

The highest honour given by the City of Sault Ste. Marie, ON, the
Medal of Merit for 2010 was awarded to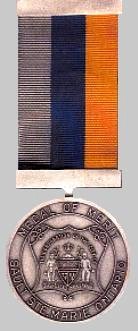 the Northland Chorus by
Mayor Debbie Amaroso at a Civic reception in May of 2011.
Award Criteria
The award recognizes individuals or groups who have achieved provincial or national championship status in an athletic or other competitive endeavour, achieved a standard of excellence in a cultural or academic field or who have made an outstanding contribution to the community.
Accepting Recognition Plaque from MPP David Orazietti - May 7 2011
---
---
Quotes Taken From 2010 Medal of Merit Letters of Support
"We believe the chorus would be an excellent recipient for this award as their performances bring a sense of belonging to their audience. Many a trip down memory lane has been taken by our senior friends while being entertained by the Northland Barbershop Chorus.... Every show, every group, no matter the numbers is made to feel special. Music is a universal language and these gentlemen bring all our senior friends together heart and soul. When you hear them, perhaps at a nursing home, and you see how their music brings smiles to old, worn, tired faces and twinkles to otherwise sad, lonely eyes you know you have participated in something very special."

Catherine B. Johnson, Supervisor Senior's Services,

City of Sault Ste. Marie, Ontario

---

"Over the years, the Northland Barbershop Chorus has donated over $50,000 to the Sault Area Speech and Pathology Department. I believe that a history of how this came about may shed some light on the importance this group has played in the lives of many in our community. It began in 1995 when I was working in the department as Speech Language Pathologist. I had a patient who had suffered a brain stem stroke and could only move his eyes. He did not have the necessary funds to purchase an eye-gaze board—a clear fibreglass board which would allow him to communicate. The price of this augmentative device was $30.

Through my travels I had heard of Barbershop groups and their motto: "We sing that they shall speak." I looked up the local Barbershop group in the phone book and contacted Bob Shami, the Music Director of the chorus. I explained the situation and within days the group had donated $100 and told us to buy three eye-gaze boards! What seemed like a small act of kindness provided the only means of communication to a man who had been suffering in silence."

Alana MacIntyre,

Speech Language Pathologist

---

"As co-founder of the Algoma Traditional Music and Dance Group — a non-profit group dedicated to the preservation of traditional music, dance and art in inter-generational settings — I keep seeing the benefits of music in the lives of people. It builds community, friendships, and creates joy and a sense of well-being. It ripples out and affects others in a positive manner.

Our group shares Northland's philosophy of communal singing for the joy of it, and has been generously supported by them in the last few years through scholarship money donated during our annual summer camp. They requested that the scholarship money be given to individuals who have a passion for singing, and who might be encouraged to keep on singing throughout their lives. There is no doubt that singing empowers people of all ages, builds confidence, and reaches the hearts of listeners."

Julie Schryer, Administrator,

The Algoma Traditional Music and Dance Group

---

"On November 7-9, 2008 the Northland Barbershop Chorus volunteered to travel to Kincardine — a nine-hour bus trip — to put on a benefit show for our Legion branch at no cost to us. The show was called A World War II Revue and was performed in our local United Church, which has one of the largest seating capacities in town. As can be seen by the date of the event, it was geared to a Remembrance Day theme that was very appropriate a nd in the true light of what the Legion stands for. To say that their performance was outstanding is a gross understatement. The venue was filled to capacity. The show was about two and one half hours in length, and one could hear a pin drop throughout it. This show realized a profit of over $10,000 for our branch, which was utilized to help keep our doors open and thus provide support to our local community."

Robert (Red) Larsen, President,

MacDonald Branch #183,

Royal Canadian Legion

---

"This group of dedicated individuals, led by the visionary Bob Shami, constantly support the artistic endeavours of other local arts groups, whether, for example, by contributing quartet singers for Sault Theatre Workshop productions, singing as a chorus in four local schools onMusic Monday, or by providing financial assistance in the form of annual music scholarships. As an educator, I applaud their efforts to instill in all people — especially youth — the joy of vocal music. One cannot overestimate the value of their efforts as teachers, mentors, entertainers and fund-raisers spreading the thrill of a capella singing while entertaining."

Barbara Gallagher, Music Director,

St. Basil Secondary School
---
2010 Medal of Merit Links
---
2010 Medal of Merit Awards Ceremony Transcripts








---
May 2011 - Medal of Merit Award Banquet Photos
Click on any photo below to see the enlarged image and caption.
---
May 2011 - Photos of Chapter Members Receiving Medal of Merit
Click on any photo below to see the enlarged image and caption.